Your Leading Online Resource for Aluminum Fencing, Vinyl Fencing and Temporary Fence Panels.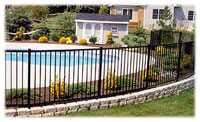 ---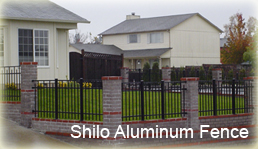 Let the professionals at Fences 4 Less help you with your Aluminum Fencing, Vinyl Fencing, or Temporary Fence Panel Needs.
When you're deciding on a new fence there are several things you need to consider, such as:
Intended purpose of the fence
Location of the fence site
Cost of material and installation
Building codes and neighborhood CC&R's.
At Fences4less.com our goal is to provide online resources that are useful to homeowners, building and landscaping professionals, fence rental companies, architects and anyone who is interested in fencing products.
Here at Fences4less we dont offer you dog houses, composite decking materials, or baseball gloves. Our sales staff specialize in fencing products and we are proud that we are among the first sites providing fencing solutions on the internet.
We carry the top name brands in Aluminum fencing such as Jerith, Delgard. We also carry top quality vinyl fencing. Contact us today and we can meet your fencing needs.
Whether your a building professsional, "do-it yourself-er", or need your fence installed, our sales staff are eager to help you and guide you through the process of selecting the fence solution that best fits your needs and your project budget. Call us today, or fill out our form.